LADAKH , Image and Word, A Sudeep Sen and Janet Pierce Creation
Ladakh

brings together remarkable new work of two foremost international artists — Sudeep Sen, a leading Indian poet, and Janet Pierce, an established Irish painter. The text of the first two sections is landscaped in Ladakh and the high Himalayas; and the third and fourth sections follow the Irish terrain both topographically and in spirit. Both their works have similar resonances, inspired by similar landscapes, and there runs a shared thread of introverted meditation in their creative pieces.

Purchase "LADAKH"

Recently Published Art/Poetry book "Ladakh" is available for purchase €20 + €1.50 P&P, via PayPal. Janet worked with poet Sudeep Sen to create this beautiful book available here direct from the artist.
Janet Pierce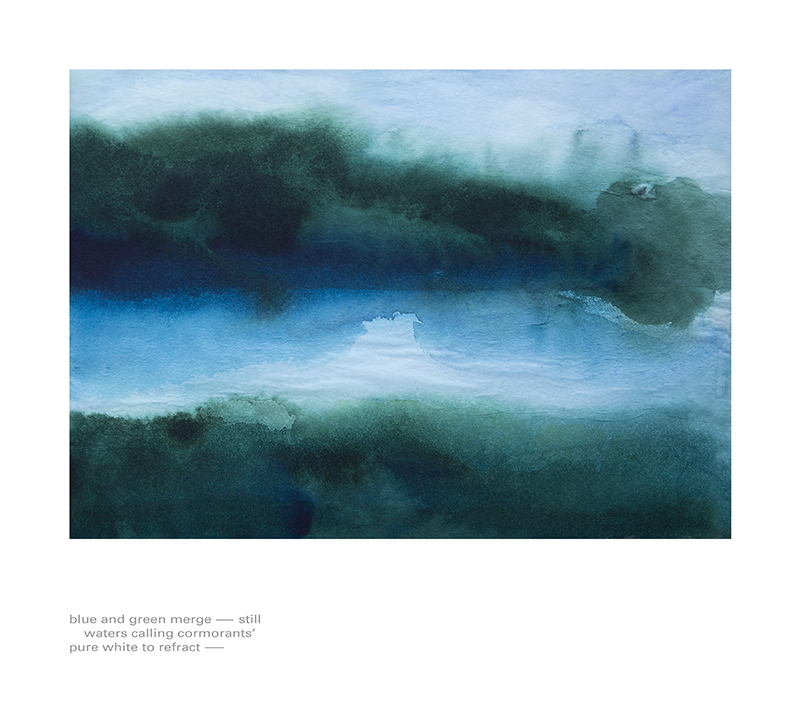 Janet Pierce is a leading Irish artist who had her first solo exhibition in the Everhart Museum, Pennsylvania in 1973 . After four years in America she moved to Ireland where she has since lived and worked. Music has always been a concern of hers, and she has collaborated with traditional singers, Maighread and Tríona Ní Dhomhnaill, in their CD Idir an Dá Sholas (Between the Two Lights), a collaboration which helped her realize her deep connection with landscape.
However, following and intensely close involvement with India, since 2003, her work has taken a different direction. Indian sacred singing and meditation has been the source of her work. She follows the path of the Hindu Guru , Sri Vasudeva, and chanting and meditation form part of her daily ritual. The word Om, from the ancient Sanskrit alphabet, is the sound of the universe or the Source or God, and reflects her desire to return to that Sacred Space within.
Using gold and silver leaf from Old Delhi, her abstract works on paper resulted in an intensification of earlier consideration, her hunger for transcendence realised through the contemplation of landscape and of the cosmos.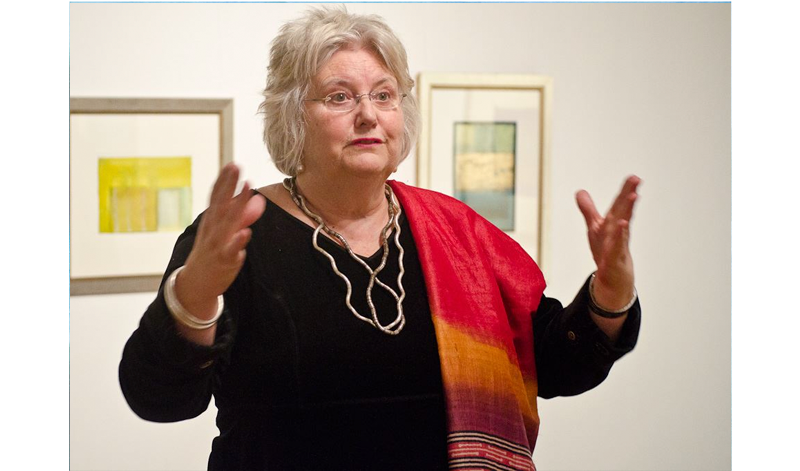 Now she is collaborating with a leading Indian poet, Sudeep Sen. They produced a book paintings and poetry called Ladakh. The images were taken from four series of her work - series Om, Maya, Aria and Prayer Flags. This was launched at the Irish Embassy in Delhi in March, 2011. Her most recent collaboration with Sen is a series of ten giclee prints made to accompany Sen's series Goa Haiku.
Since 2015, Pierce has returned to her fist love, that of watercolour painting. Her most recent series is called Uisce Anam, Irish Gaelic for Soul Water. This is a creative response to daily swimming in the Annaghmakerrig lake in Ireland beside her home. She has won numerous awards, recently including three from Culture Ireland (2007/10, 14), Banff Residency Award Canada (2010), Sanskritti Foundation New Delhi (2003), Fundaction Valpairiso Spain (2002) and has achieved the major award of member of the Aosdana for her life time achievement in Ireland. She exhibits in many galleries throughout Ireland, her main gallery being the Taylor Galleries in Dublin. She also exhibits in galleries in the USA, UK, Portugal and India
Sudeep Sen
Sudeep Sen is widely recognised as a major new generation voice in world literature and 'one of the finest younger English-language poets in the international literary scene' (BBC Radio), 'fascinated not just by language but the possibilities of language' (Scotland on Sunday). He received a Pleiades Honour (at the Struga Poetry Festival, Macedonia) for having made "a significant contribution to contemporary world poetry". Sen's prize-winning books include: Postmarked India: New & Selected Poems (HarperCollins), Distracted Geographies, Rain, Aria (A K Ramanujan Translation Award), Ladakh, The HarperCollins Book of English Poetry (editor), and Fractals: New & Selected Poems|Translations 1980-2015. Two new books, Blue Nude: New Selected Poems (Jorge Zalamea International Poetry Prize), and EroText (Penguin Random House) are forthcoming. His poetry and prose, translated into twenty-five languages, have featured in major international anthologies; and his words have appeared in the Times Literary Supplement, Newsweek, Guardian, Observer, Independent, Telegraph, Herald, Harvard Review, Hindu, Hindustan Times, Times of India, Outlook, India Today, and broadcast on bbc, pbs, cnn ibn, ndtv, air & Doordarshan. Sen's newer work appears in New Writing 15 (Granta), Language for a New Century (Norton), Leela (Collins), Indian Love Poems (Knopf/Random House/Everyman), Out of Bounds (Bloodaxe), and Initiate: Oxford New Writing (Blackwell). He is the editorial director of aark arts and the editor of Atlas.
As a photographer and graphic artist, his work is part of many professional print portfolios, magazine and newspaper pieces, book jacket covers, private and public collections some include: Hindu, Deccan Chronicle, New Indian Express, Swagat, Gallerie, Biblio, Prairie Schooner, Molossus, World Literature Today, Indian Design & Interiors, and others; plus books covers for publishers such as HarperCollins, Peepal Tree, Mulfran, Wings Press, Women Unlimited, Gallerie, Aark Arts, UPL, Bengal Gallery, and many others. He has also published two books of photography, Prayer Flag and Postcards from Bangladesh. His photography is professionally represented by ArtMbassy in Berlin
Sen was the first Asian to be honoured with an invitation to participate at the Nobel Laureate Week in St Lucia in 2013, where he delivered the Derek Walcott Lecture and read his own poetry. A special commemorative limited edition, Fractals: New & Selected Poems|Translations 1978-2013, was released by the Nobel laureate Derek Walcott himself. The same year, the Government of India Ministry of Culture's awarded him the senior fellowship for "outstanding persons in the field of literature/culture".